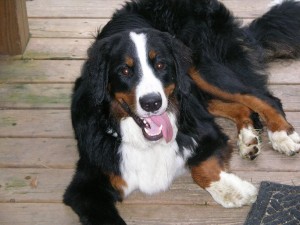 Schultz, we just got today, 9/5. He is about 11 months old and is just an unruly pup. He seems to not have had a lot of training as he does not listen well. He is an opportunist, and will grab thing that he should not. This is the root of his re-homing. When he would take something he was not supposed to had, usually a paper towel or the like. He would growl and act aggressive when his owners would try to take it from him. It appear that the owners let him have his way, so he has learned he can bully people. This is a correctable issue. He loves people and other dogs. Not shy at all.
He does however appear to have either an injury or orthopedic issue with his left leg, but it seems to be his wrist not elbow. That is why we are thinking injury. We will have it checked next week.
UPDATE:
Schultz went to his new home in eastern PA, and is doing very well.