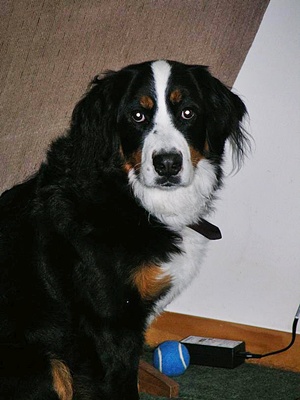 We took in a very shy intact female named Trina on Tuesday December 30th. So far I can tell she is a woman's dog and is afraid of men. She responds great to Linda but hides from me. She even came out to meet Lynda Starkel and Martha yesterday when adopting Ripley, but will not make any advance towards me. She hides under the dining room table and watches whenever I am at home. She was initially looking to jump the fence when she first came so we had to resort to a long-line and just walk her. She has stopped looking to jump the fence and we have let go of the long line so she can run. But she is never left out unattended. She has started enjoying chasing and being chased by our gang and Gracie and Angel (who we are babysitting for until Tuesday) She tears around the yard having a blast. I think that she is having fun has reduced the need to run away in her mind. She is getting spayed tomorrow which will slow her down and if the girls leave she should be able to relax more, so we will see how thing work over the next week or so. She is very sweet withLinda and wants attention from her. I don't know what Trina's history is with men.  Her owner said she got along fine with her husband and son. I think someone was heavy handed during her life because she ducks from Linda when she moves over her head. We may have not gotten the full story about her past, especially because her early history at the Amish farm is unknown.
        So many surrenders we take in we only get part of the story, and have to piece the rest together through observation and speculation. For some reason people don't tell us the whole story, maybe it is because they think we might not take them if we knew it all, is my guess.
       They give false information about shots, heartworm, training, temperment and more. They just don't understand that if can get the whole story, it makes it easier to formulate a plan for their foster evaluation time.
       So far what Trina needs is a home that is quiet with a buddy to play with, a tall fence, preferably with over a 4 ft fence and minimal male presence. I will keep you post on how she progresses.
Update 1-10-09
Trina is doing much better and is playing again after her spay. She still is very shy of me and we have to make friends every timeI come home, but I don't think I am the 3-headed giant to her any more. We have stopped using the long lead and she gets excited when Linda comes home and she wants attention from her. She has joined our gang during food prep time and her general demeanor has improved. We believe she has a lot of potential but will most likely always be shy of men. Something in her life so far has given her reason to have such a fear. For this reason we think she would do best is a relatively quiet home withminimal male presence. Another dog, that is outgoing would do her good as well as having a buddy to play with.
Update; 1/20/09
Trina is doing much better at allowing me (Bruce) to touch her. She still is selective of it and every time I come home after a shift, we have to make friends again. I think at some point she will accept me. She is the type of dog that you can not show your frustration around, even if it is not directed at her. She thinks some sore of repercussion is going to follow. She is a good girl and has not had any directed towards her, but if she thinks things are stressed she will not want to come in. That and the fact that she loves the snow! She goes tearing around in it, bury's her head in it, and then runs some more. She plays rough and grabs the legs of some of the other dogs (poor Colin) because she has never had a playmate before. A confident "buddy" would do her good. It would allow her to see dog/people interactions as an example and helps her learn who is OK in her world.
Update 1/29/09
Trina is coming along very nicely and is ready for her new home. She will come to me and allow me to pet her. She has even sought me out a few times. I knew we were there when I had my foot hanging over the side of the chair and she put her paw on my foot. She is still wary and when I am gone for over a day, she needs to warm back up to me. She has even rolled on her back in the middle of the floor to relax and chew on a toy. She like the toys ans picks them up to pile in her spot. She likes to lay with our gang and chew on a bone each evening. Most of all she loves to play with any of the dogs, out in the snow.
For this reason we would like to see her go witha family that has 1 or more dogs for her to play with, along with the fenced yard. Since she has shown that she can warm up to men, we would consider a home where the male is home all the time like a retired couple, or a family where the male works out of the house. We still think a predominantlyfemale home will work best with few visits of strangers. She will need a place to go and feel safe during visits until she feels comfortable to join the gathering.
Update 2/08/09
       Trina has come a long way. She now stops to let me (Bruce) pet her when she comes in, she will lay beside my chair so I can pet her, we both even got some kisses this week!! She is still uncomfortable at times but she seems to show that she may be able to work through some of her shyness in the right home. Her old owners said whenever anyone came over she would hear either upstairs or downs stairs. Here we have both blocked off, and we expected her to go hide in the bedroom or master bath. But she surprised us by staying in the same room with the new people and even approached close, but not enough for them to pet her. So she is adjusting and I think will come even farther. She is now a happy girl and is having fun.