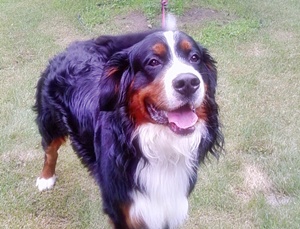 Max is a year and a half old intact male. He has begun to not get along with the other dogs in the household. Like Sawyer (below), Max has picked a few fights with his housemates. He is fine with people. He would do better as an only dog. He will need to be neutered, which may help with his dominance issues. We will post more as we find out more about him. He is still in the home but will most likely go into foster for evaluation. He has shown some resource guarding and what might be just him feeling his adolescence. feel free to contact us for more information, if this site is not updates in a few days.
Update 6/20
It is not certain if max will be coming or not. The owners had recently taken in a rescued intact mastiff and this is the dog he had problems with. They have removed the mastiff, (unknown if temporary or permanent) and Max has returned to his loving self. they are going to evaluate more this weekend and let us know if he still needs a home or not.
Update July 3rd, 2009
Max was neutered Monday and has gone into foster. He seems to get along with female dogs, and it is unknown about neutered males. He definitely does not like intact males. So far he seems to be well behaved and likes people very much. He has only been in foster for 24 hours, so we are still learning about him. He is update on shots and will be 2 years old in Sept.