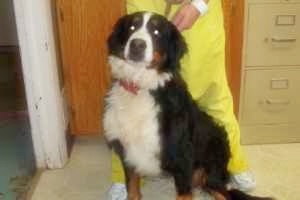 Annie was rescued from animal control after 2 weeks of no one looking for her. She has been neglected and some of her nails were almost full circle. She is thin and weight 68 pounds. She is a small berner, we think she is between 2 and 3 years old. He coat was a mess, very dull and flaky skin. She was a lady for her bath and sem to really enjoy all the attention. Her eyes are clouded over but she still seems to see well. We are working on trying to figure out why they are so clouded. It is not cataracts.
Annie loves people, and any attention she can get. We think it is new for her and she is drinking it up. She spent the evening on my lap sprawled on her back so I could rub her belly while she slept. She appears to be intact and we will have the vet check of a scar but it looks like she just finished a heat cycle. She is gentle and get along with the other dogs. Because of her history of possibly running away if she was not dumped. She will need a above ground fence. We will keep her in foster until her health issues are taken care of (spay if needed, eye exam to see what is wrong) then after she has been evaluated we will place her into a new home. It is not known how she will respond to children. Pictures will be up soon.
UPDATE 10/20/09
Annie is doing very well, she is very affectionate. We have her on steroid drops for er eye to see it it helps. She is loving being part of a family! She has taken over her end of the couch and she is now crate trained, she is very smart. So far no accidents in the house other than peeing in her crate when she had to stay in it for 11 hours, can't fault her there! She sleeps in her crate at night next to the bed, we now leave the door open and she sleeps there anyway. She still smell like a skunk and we hope to give her another skunk bath with some different stuff to see it it helps.
Update: 10/25
Annie is loving life in the house. We have determined that she must have been an outside dog. She has no clue on how to respect furniture as her standing on the end table represents. She does love her couch though! She is no completely housebroken. She has not pooped in the house even after 11 hours. But we have found several pee spots. We have never caught her in the act, so we are not sure when it happens.
On the bright side she does not appear to have been hit as many are that we see. She has however been neglected. We think that is why she is loving the attention. He helicopter tail never stops. We think her eyes look a little clearer, but not for sure. She is getting spayed on 10/27.
Update: 10/29/09
Annie is ready for her new home. She has been spayed on Monday and is doing great. If someone likes to curl up on the couch and read with a furry friend sunggled in the crook of of your legs, Annine is the one!
Update: 12/06/09
Annie is still with us and her coat is coming in very nice now. She and our 6 m/o Rigel have become best buddies and she has learned how to play. We are still working on toys. She looks at them but not sure what to do. She really loves her couch and is always on her back with all 4 in the air. She has even learned to ask to come in by pawing at the door.  She will come up on our lap and do the same. She is so happy here and loves us, she will be a hard one to let go of, but the inn is full and as hard is it will be, we have to place her.