Ain't I a good looking boy!
Help Mojo get his MRI, Please Donate at:
Mojo is almost 18 months old. He is seeking a new home because he get too rambunctious for the small children in his house and knocks them over. He needs a little bit more training to refine his manners. Mojo may also have a neurological issue with his back leg. He sometimes drags his toes on one side. He has been x-rayed with nothing obvious as the problem. Mojo would do best in a home with older children.
update; Oct 12, 09
Mojo was seen by the vet and is appears that he does have some sort of neurological issue with his spine/rear end. We are working on trying to raise funds to have some proper test done, most likely an MRI.  This is very expensive at about $3000. Sadly the rescue can not afford to spend that much on just 1 dog. If someone is willing to help by donating something towards the tests, would be very helpful. If someone is willing to adopt with these unknown diagnosis, please feel free to call us or click on the link above for a PayPal donation site for Mojo.
Update 10/26/09
Mojo is sweet, loving young boy!  At 96lbs he just turned a year old in May, and is certainly still a puppy.  He loves to play with other dogs and is also good with cats.   He's a silly, fun puppy and while he is good with kids he can easily knock them over because he has no idea what a big boy he really is.  He firmly believes that he is a lap dog, and he is never happier then when people are petting him. He's just a big lover and lives for snuggle time.  Mojo has never had an accident in the house, he knows 'sit' and 'down' and is learning how to walk on a leash.  Like any young dog, Mojo is energetic and will sometimes jump on people. If he is left unattended Mojo will find his own entertainment.  This may be eating paper or chewing up a bush outside.  Fortunately, Mojo is wonderful in a crate and he respects baby gates.
Mojo needs a home with someone who will be committed to spending time with him and doing positive training classes. A family who will love and appreciate him for the silly, sweet, puppy-boy he is.  Mojo will need a fenced in yard.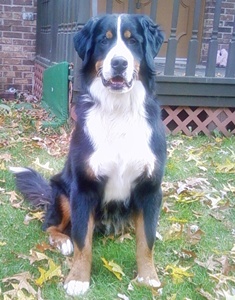 Mojo does have some mild neurological deficits in his hind legs.  While this doesn't cause him any problems, we are hoping to raise money so that he can be examined by a neurologist. In meantime though, we accepting applications and are hoping to find a wonderful forever home for this sweet boy.