Our Talented and Qualified Staff.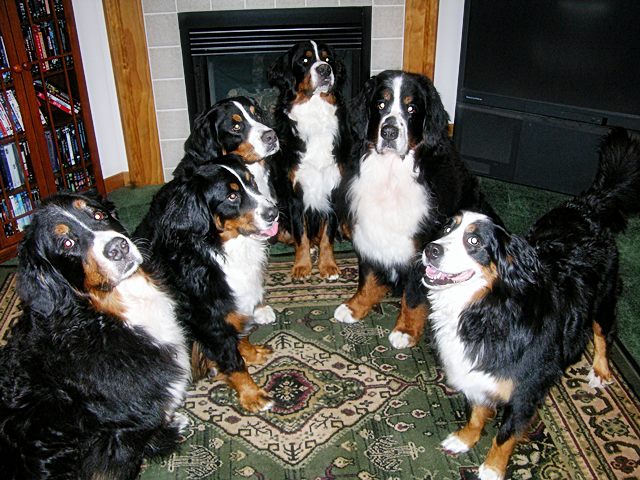 We are a network of caring volunteers, Berner enthusiasts and foster homes throughout Michigan and even in Ohio and Indiana!  We are 100% volunteer based and we all work full time jobs on top of helping rescue dogs.   Here at Michigan Bernese Rescue, we strive to help any Berner (and the occasional BMD mix) in need that we can .  Whether the dog is in a shelter or needs to find a new home due to allergies, it does not matter.  From time to time, we will also help the truly 'hard luck' cases, which are the Berners with temperment problems.
The reasons that dog are given up are many:
Fearful or aggressive temperaments
Extreme shyness, and aggression issues
Loss of the family home, birth of a human child
Orthopedic and medical problems
Dogs saved from back yard Breeders and puppy-mills
We have had dogs that were beaten, starved, barely walking and dogs that could have walked out of the show ring, along with everything in-between. To date we have assisted over 100 Bernese fine forever homes and start a new life with the loving family that they deserve.
Of the dogs we have had come through the program, it is surprising how many have become therapy dogs, now assisting people with their own life issues. Several of these dogs were slated to be destroyed due to aggression.
Many of the dogs with temperament issues, we have found to be more of a lack to training and socialization at an early age. Most of the time it has been correctable. Some dogs never resolve their phobia's but it is amazing how many are able to improve.
We have several screening techniques to find the best possible match for both dog and family. We do not have a "waiting list" and dogs are not placed based on who applied first.  Instead, we strive to place a dog in the home best suited to the unique needs of the particular dogs.
All of our dogs are kept in loving foster homes until they are ready to be adopted. Our foster homes help to provide any needed training and every dog is fully vetted including spay/neuter, vaccines and microchipping.
Our past president (now retired) Bruce and Linda Whiteside were recognized for their efforts at the 2008 Bernese Mountain Dog Club of America, National Speciality in Warwick Rhode Island, with the Winston Neff Memorial Award from the Berner Garde Foundation. We couldn't be more proud of them!
We do adopt out of state, but you must be willing to come to Michigan to adopt!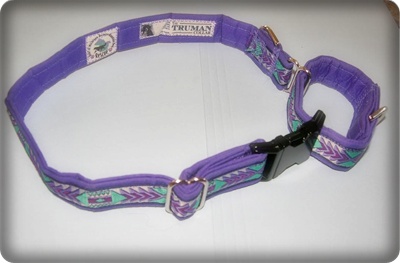 These are the collars that we use for our rescue program because they provide safety and security for the dogs that come in. Some of the special features are;
A metal snap buckle instead of plastic, the snap buckle allows the collar to be placed normally so a fearful dog is not frightened by something slipping over the head.
The Martingale style allows for a looser collar but will tighten when pulled so the dog cannot back out of the collar, again excellent for a shy, frightened or assertive dog.
The extra "D" ring allows for a separate ring for tags and the other on the cinch portion for the leash connection. And the come in hundreds of patterns!
The Truman Collar Company also is dedicated to helping dog health issues by donating 25% of sales to the Morris Animal Foundation to study canine diseases. And any collars purchased and mentions this site, Debby Fitch will make a donation to the Heart of Michigan BMD Rescue.
You can order from her web site at; www.thetrumancollar.com or contact Debby directly at thetrumancollar@yahoo.com