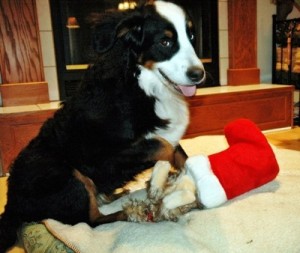 Ripley has finally found a new home! She was here too long. We got very attached to her and became overly protective on where she would go. We were really close to just letting her stay because she fit in so well with our clan and she loved us very much. But we knew that 7 was too many since we want to travel some as we get closer to retirement, so we need to go the other way, not up. So we decided she needs a very special home, and would wait for it.
Our patience paid off, and a home did come along but not they way we like to see things happen. We received a note from Peter and Lynda Starkel about the passing of their special boy Polar whom had succumbed to cancer. We received a second note telling us that when they were ready they were going to continue to look into rescue since Oscar turned out to be such a wonderful dog when they adopted him a few years ago. I knew it was too soon but I mentioned about Ripley and they happened to be in our area in a few days. They came to meet her and fell in love but did not want to decide too quickly. So they left and would spend 24 hours to think about it.
I got a call the next day asking if we would allow Ripley to join their family. We instantly agreed because they are such a wonderful home. Lynda and Peter have 2 children that also came to meet her and wanted to take her right then, but cooler heads prevailed.
Lynda and Martha (their daughter) came to pick up Ripley yesterday and she was ready to go. We got an update and she is doing fine. Peter hopes to build Ripley up to be able to join him hiking and want to make an across state hike as part of an event, I don't recall the name of. All I know is that if they make the trek, I want to see some pictures in the newsletter!!
Peter is helping (well, actually building for us) a web site for the rescue. We will be able to keep thing up to the minute to date without having to bother anyone with the constantly changing rescue pages.
Thank You Peter and Lynda for opening your hearts to Ripley, we know she is in great hands.